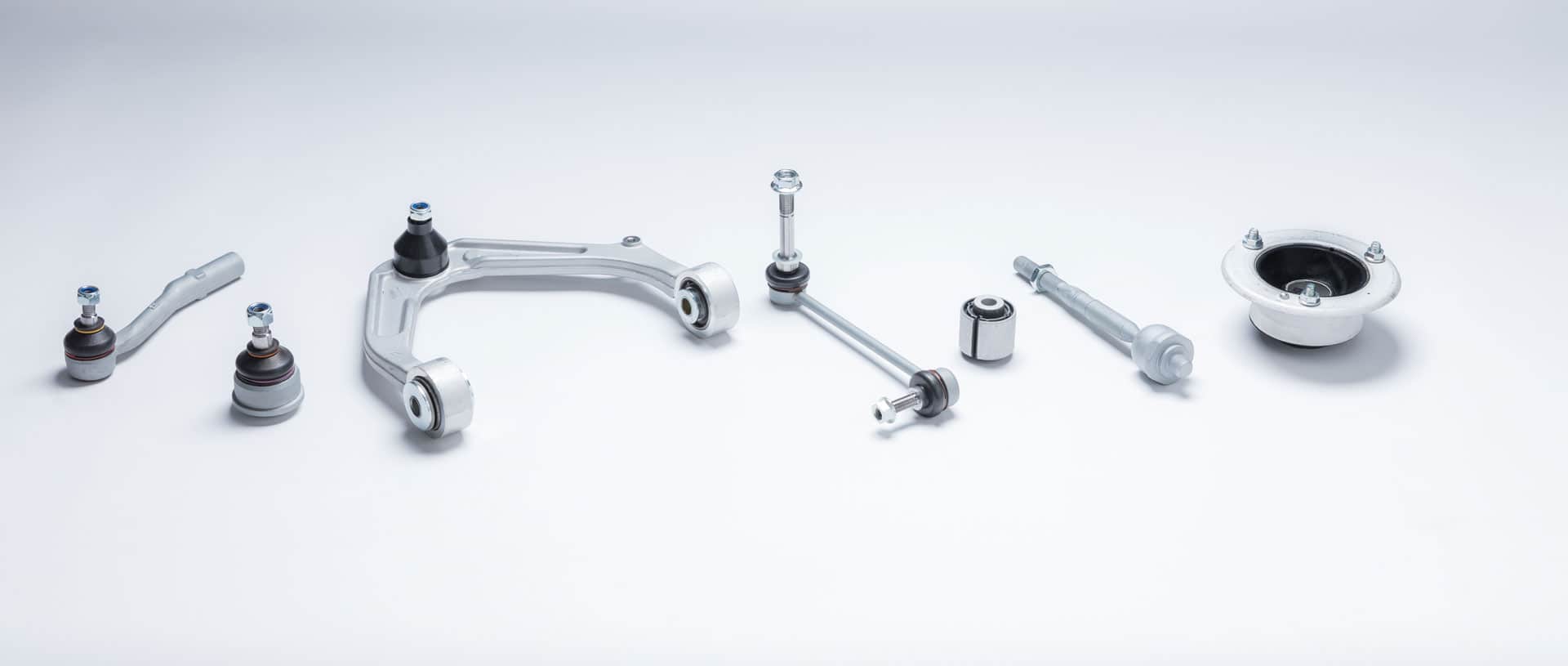 Sidem steering & suspension
Sidem is a leading European designer and manufacturer of steering and suspension parts for the car assembly and replacement market in the automotive sector.
Premium OE supplier

Maximum coverage

European origin

Specialist since 1933

Highest customer satisfaction
I want to know more
CUSTOMER STORIES.
A strong team is a key success factor, but happy customers are the best proof of the quality of service it provides. This is why we cherish these touching words from our customers. And we're happy to share them with you.
Sidem products are of high quality and produced in Europe. We have complete confidence in the brand and its products due to the credibility they convey. Our partnership with Sidem means choosing a comprehensive range of safety solutions for steering and suspension, based on its own research and development, quality assurance and production processes with OE quality at the very least, and with products developed and manufactured in Europe.
Isabel Basto
COO Aftermarket of the Nors group
Portugal
When it comes to OE replacement parts for European vehicles, Sidem is our first choice in everything related to steering and suspension. Their superior catalogue sets industry standards, which is why I always carry one with me, when visiting our workshop customers.
Zoran Hranisavljevic
Manager Import Vehicle Products
Motorcade (Canada)
Congratulations to Sidem on your 90th Birthday, we wish you many more years of success and growth! We have been working with Sidem for almost a decade as the official distributor for Sidem in South Africa and we continue to have a great customer-supplier relationship. When it comes to OE quality, Sidem does not disappoint.
Marcel De La Chaumette & Damien Theunissen
Senior Buyer & Buyer
Masterparts Automotive Parts Supply (South Africa)
We are a proud distributor of Sidem in Brazil. Their quality and availability are second to none! We are excited to grow our business together with the Sidem brand.
Fernando Santos
Head Comercial
Stärke Parts (Brazil)
Congratulations on Sidem's 90th anniversary: we wish you many more successful years in the automotive aftermarket. We are pleased to have built a strong partnership and a mutually beneficial relationship over the years. Every day, we are proud to distribute Sidem's products in the market and perceive our customers' satisfaction and trust in this great brand.
Roberto Roggeband
Head of Products- PMP Director
Rhiag Group (Italy)
For several years, Sidem has been one of the key suppliers of suspension components for Inter-Team. We value good cooperation, based on trust and striving to understand each other's needs and expectations. In our opinion, Sidem is not only a product – it is also a fulfilled promise of a controlled production process. The brand stands for the safety and quality that we want to offer our customers.
Anna Gomoła-Paradowska
Deputy Director of Supplier Cooperation Department
INTER-TEAM Sp. z o.o. (Poland)
We have been working with Sidem for many years and particularly appreciate the company's reliability. We value a genuine partnership and are pleased that Sidem, like us, is an owner-managed company. In our opinion, both the quality of the products and timely deliveries are important to ensure the high level of service we promise our customers. We can count on Sidem to deliver on this at all times.
Philipp Koller
Head Global Procurement
SAG Schweiz AG (Switzerland)
We've had the pleasure of working with Sidem for many years. Over this period, Sidem has always been a reliable, trustworthy and supportive partner. The company consistently maintains a high standard of quality for its products and always demonstrates great efficiency in resolving any issues that arise. Sidem is known for its quick responses to industry developments and for continuously expanding its product offerings. We value our relationship with Sidem and look forward to continuing our partnership.
Ewa Potrykus
Product Manager
Hart company (Poland)
We would like to congratulate Sidem for their 90th anniversary. This is a wonderful milestone for this beautiful family business and long-time LKQ partner. For over 25 years already, we have appreciated this leading steering and suspension parts manufacturer, especially for its wide range of high-quality and 100% OE equivalents. Moreover, we enjoy working with the people at Sidem, who always find the optimal solution. The quality, flexibility and support that we can expect from Sidem are not only good for us, but also for our customers.
Stijn Van Ende
Senior Product Manager & Buyer Accessories & Tyres/Wholesale
LKQ Fource (Belgium)