A ball joint connects the wheel suspension control arms with the wheels. A ball joint allows flexible movement between the vehicle's wheels and suspension. But how is it composed?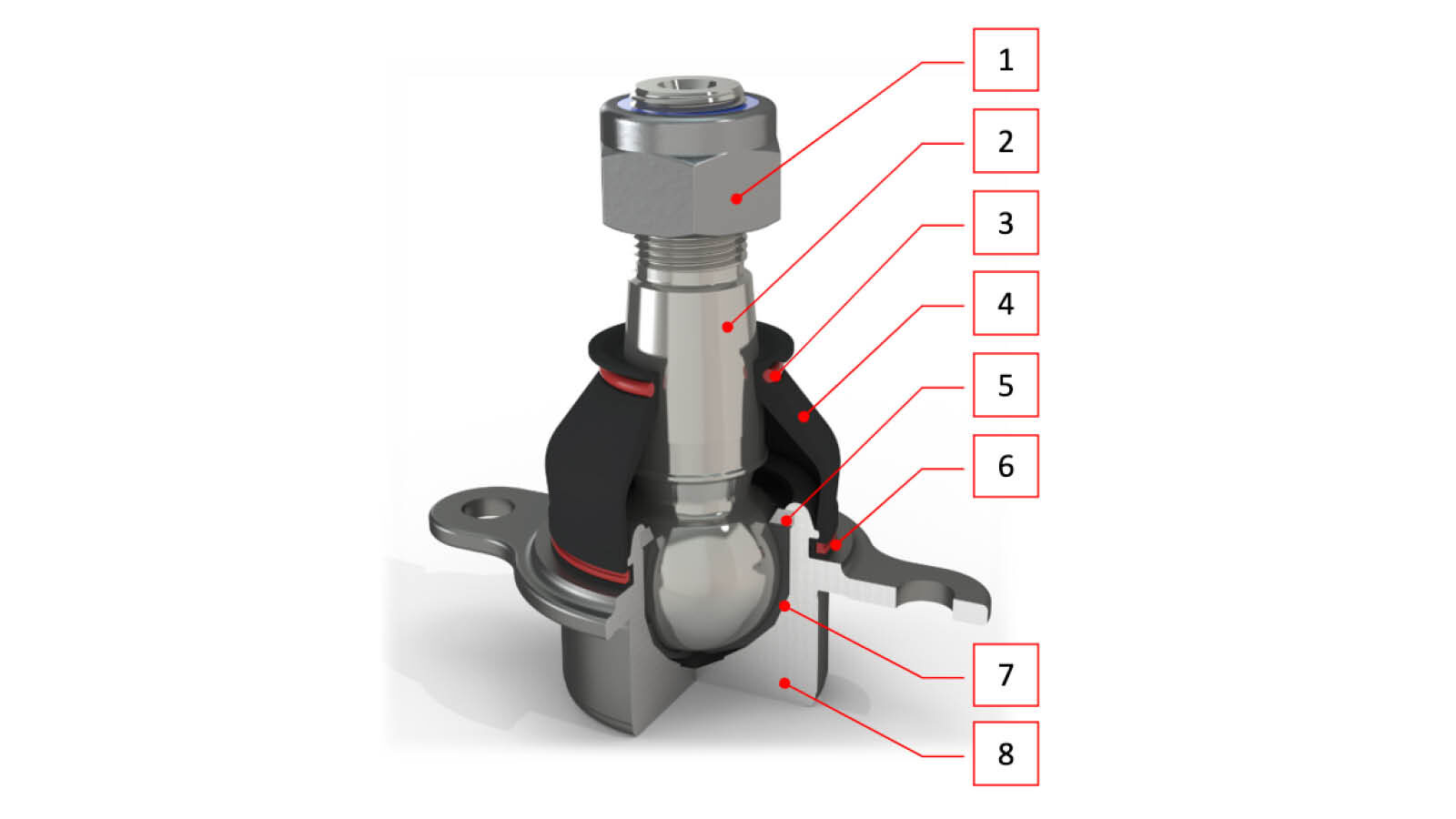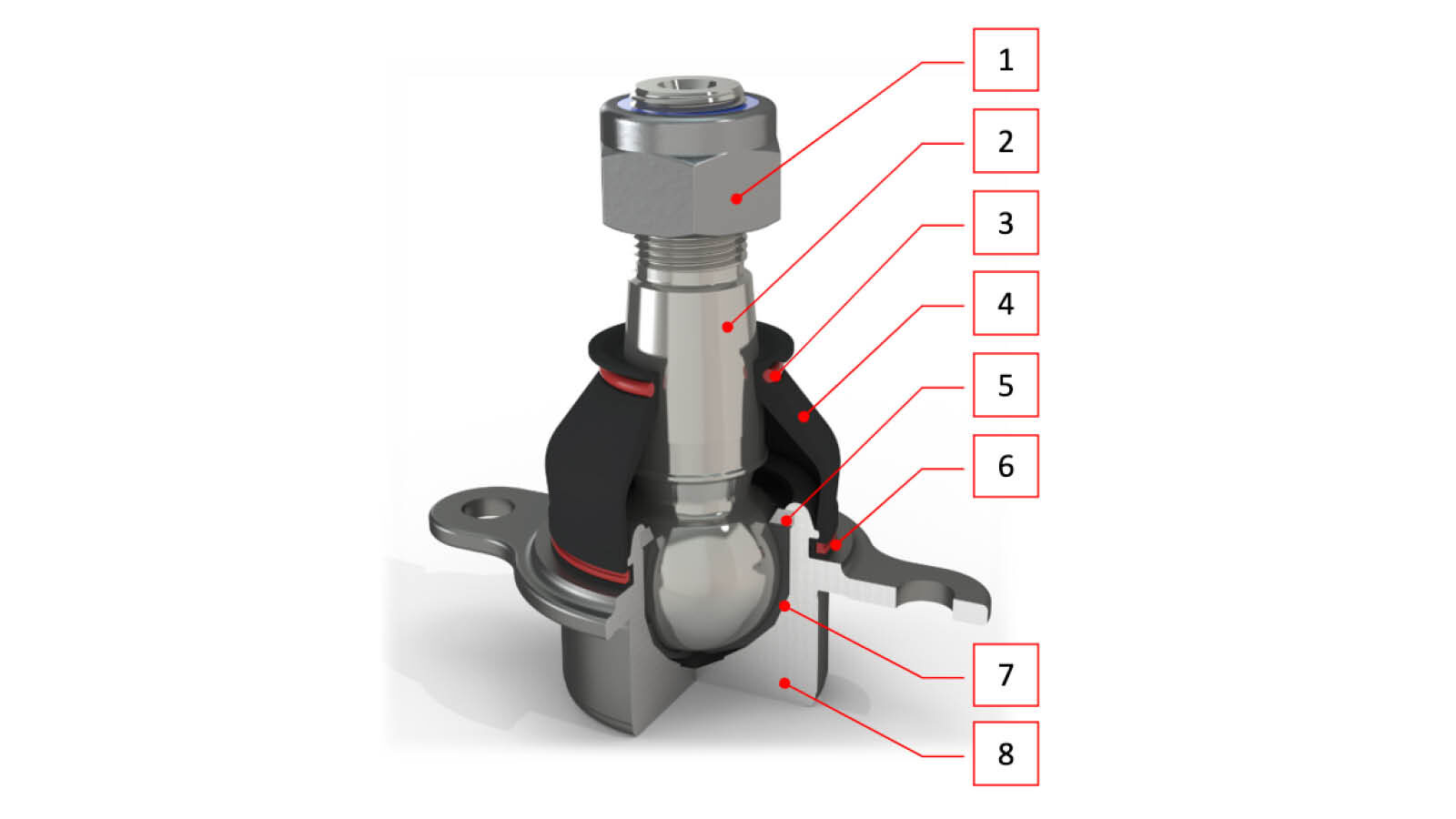 Nut
Ball-pin
Top spring
Dustcover
Insert ring
Bottom spring
Insert
Housing
Ball-pins and ball studs
One of the main components of a  Sidem ball joint are the ball-pins and ball studs. These are made of chromium steel (42CrMo4V). The hardness of this material ensures maximum strength of the part and prevents the part from breaking at extreme impact. Another advantage of chromium steel is that it is more rust-resistant than carbon steel.
Our ball-pins and ball studs are cold forged. In this  way, we create the most optimal structure that increases the strength of the part. In a final phase, we polish them as a mirror. As these components are constantly moving while functioning in the car, we want to decrease friction that way. And thus increase  the lifespan of these elements.
Dustcover of the ball joint
Every ball joint has a dustcover. This component prevents water from infiltrating the ball joint articulation. The main element of our dustcovers is chloroprene rubber.
It provides maximum resistance to chemical substances.
It offers the best sealing from moist and dust.
It is very elastic, which is necessary as the ball-pin is constantly in movement.
Besides that, the dustcover consists of a few other elements. Its seat, for example, is specially designed to prevent the dustcover from collapsing. The dustcover design on the other hand is a special non-rotating one that prevents the part from twisting. In addition, we have added extra grooves on the sealing point. This  way, we created a barrier that avoids water infiltration. One of the last components of the dustcover are its springs. We produce them in such a way that they don't deform, ensuring maximum sealing of the dustcover.
Ball joint housing
The housing of a ball joint is a casing for the insert and the ball-pin. Here, we also provided some extra details to guarantee a longer lifespan of the part. Firstly, we did not cut in the steel micro-structure or thread. By rolling it instead, we create a stronger thread and thus more longevity. Secondly, our housing doesn't have any sharp edges. By creating a housing with rounded edges, we prevent the dustcover from being damaged by the housing. Double win!
Polymer inserts
Every ball joint has polymer inserts. Ours are resistant to extreme temperatures: from -40 °C to 150 °C. They are also resistant to high impact, which results in no deformation and ultimately no wear.
Flange lock nuts
Our flange lock nuts facilitate the ball joint installation and prevent the part from loosening under vibrations and torque. Its flat washer makes sure that the nut doesn't dig into the mounting surface, causing a better continuity between the two surfaces.
These components are made of class 10 steel and are coated with white zinc plating. This coating prevents corrosion, leading to a longer lifespan of the component and ultimately the part.
Ball joint grease
Lubrication of the ball joint is crucial.
It lowers friction.
It enhances smooth movement of the ball joint.
It reduces torque and causes less static electricity.
Sidem ball joints are lubricated with a lithium calcium grease with MoS2. It's water repellent and the MoS2 makes the grease resistant against extreme pressure. Combined with a polymer insert, we can guarantee a longer lifetime in comparison with the grease-nipple concept.
All of this leads to a higher steering comfort and safe driving.
Curious to know more about our complete range of ball joints? Go to our catalogue  and discover the more than 500 references we have in stock.
Do you have any questions about our ball joints? Feel free to contact us!